Zenario 7.5
Zenario 7.5 has been publicly released, these are the new features in this version:
New link status tool shows drafts and privacy warnings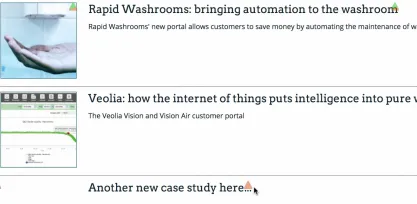 When in admin mode, it's now much more easy to see links to unpublished pages, as these links are highlighted with an icon.
An orange triangle indicates a link to a first draft, while an orange/green one indicates a link to a content item that has been edited but not yet re-published.
There are permission warnings too. There are also icons that highlight links to content items and slides in nests that are password protected, where the links would not currently be visible to an administrator if they were not logged in as an administrator.
There are now more advanced options for content item privacy. You can check for permissions using a smart group, or by calling a static function. You can now also create a content item that is only visible to logged out visitors.
Slides in nests and slideshows can now be set to not show to an administrator if they would not be visible were the administrator not logged in as an administrator.
Creating new pages
You can now set a default privacy option for content items; e.g. you could have all content items default to "private" when first created. To set this, go to Site Configuration->Content items, and select the content type for which you wish to specify this rule.
Editing
When creating a banner that links to a content item, you can now specify an anchor on that page to link to.
Sending emails from Zenario
CC and BCC emails now affected by email debug mode and will be sent to the debug email address, rather than the actual CC or BCC recipient.
Added a panel in Organizer that lets you quickly see all of the email addresses used in the site settings.
When writing a newsletter, you can now have the ability to schedule it to be sent at a specific time.
When email debug mode is enabled, all emails sent to the debug email address will now contain the original recipient's email address at the bottom of the email.
Site description file
The site_description.yaml file is now mandatory. Administrators are now be blocked from logging into a site where this file is missing.
You can embed slots or pages in third-party sites
You can now easily embed elements such as slots with plugins, and complete content items, within pages on third-party sites.
Slot controls now have links that let you copy an "embed" snippet. Then simply paste the snippet into a page on the third-party site in order to embed your Zenario slot or page.
A new area in the site-settings allows you to enable or disable this feature, control what domains are allowed to embed elements of your site, and control which elements may be embedded.
Other changes
If you create a contact in Organizer, the Extranet Registration plugin will no longer block them from registering as an extranet user. The person with the email address can now attempt to sign up as normal.
When editing a dataset field, you can now see the count of records for which that field is populated.
The External Programs site settings have been reworked. Rather than entering the full path and program name, we now show you a select list with a few commonly-used locations for each program.